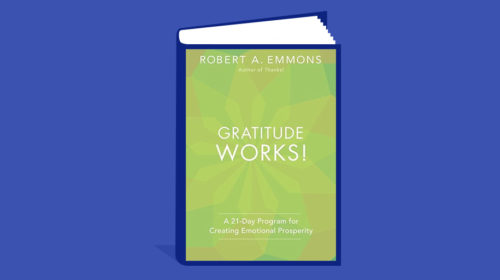 Gratitude Works!: A 21-Day Program for Creating Emotional Prosperity
Robert A. Emmons | Gratitude
Why we love it: A pioneer in psychological research on gratitude, Robert Emmons teaches how to weave thankfulness into your daily life. His 21-day challenge provides step-by-step suggestions that may be helpful to those who have had trouble establishing a gratitude journal.
From page 73:
When you become aware that someone has made an uncommon sacrifice on your behalf, go and thank them. Even if it takes some time. Former surgeon general of the United States C. Everett Koop recalls this about his youngest patient: "One day at Children's Hospital I got a phone call from a nearby hospital about a dying newborn with a diaphragmatic hernia. I drove there at breakneck speed. I ran up to the ninth floor and ran back down." By the time Koop placed the baby on the table, the little boy was blue and lifeless. "With no time for sterile precautions, I opened his chest and massaged his tiny heart with my finger until it began to beat. Then I finished the operation," he wrote.
About twenty-five years later Koop's secretary ushered a strapping six-foot-four-inch young man into the office. "My father thought you'd like to meet me," he told Koop. "You operated on me when I was fifty-five minutes old." Koop ran around the desk and hugged him.