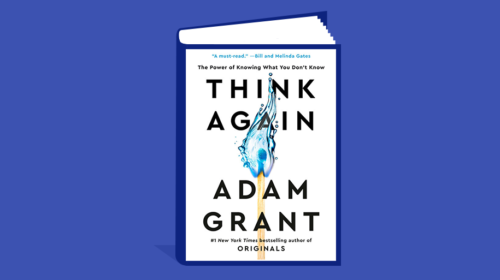 Think Again: The Power of Knowing What You Don't Know
Why we love it: Everyone wants to be open-minded; the hard part is making it happen. Adam Grant explains how we can rethink our assumptions—and help the young people in our lives do the same.
From page 256:
Teach Kids to Think Again
Have a weekly myth-busting discussion at dinner. It's easier to debunk false beliefs at an early age, and it's a great way to teach kids to become comfortable with rethinking. Pick a different topic each week—one day it might be dinosaurs, the next it could be outer
space—and rotate responsibility around the family for bringing a myth for discussion.
Invite kids to do multiple drafts and seek feedback from others. Creating different versions of a drawing or a story can encourage kids to learn the value of revising their ideas. Getting input from others can also help them to continue evolving their standards. They might learn to embrace confusion—and to stop expecting perfection on the first try.
Stop asking kids what they want to be when they grow up. They don't have to define themselves in terms of a career. A single identity can close the door to alternatives. Instead of trying to narrow their options, help them broaden their possibilities. They don't have to be one thing—they can do many things.
From Think Again by Adam Grant, published by Viking, an imprint of Penguin Publishing Group, a division of Penguin Random House, LLC. Copyright © 2021 by Adam Grant.